Karndean Luxury Vinyl Flooring
Luxury vinyl flooring has quickly become one of the most popular flooring options for homes. Although it looks like real hardwood or stone, luxury vinyl is moisture resistant and wear resistant, and it also remains easy to clean and maintain.
At The Floor Store Carpet One Floor & Home in Denham Springs, one of our featured luxury vinyl brands is Karndean.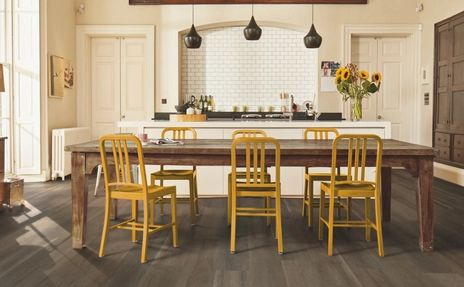 Why Karndean Flooring?
Karndean continues to be one of the most highly sought-after brands when it comes to luxury vinyl. Why? For one thing, Karndean offers tremendous design versatility. There are so many natural wood and stone looks from which to choose, so nothing is considered off limits. More importantly, Karndean luxury vinyl floors offer truly authentic surface visuals and textures.
In addition, Karndean floors are ultra-durable. Every Karndean luxury vinyl floor is considered moisture resistant, so they can be installed in most kitchen and bathrooms. Also, Karndean floors will resist nearly all scratches and scuffs, so they are suitable for homes with children and pets.
Karndean Flooring Collections
There are a few different Karndean flooring collections, but our two favorites are LooseLay and Korlok.
LooseLay: Karndean LooseLay offers a luxury vinyl construction, so it is wear resistant and moisture resistant. Also, it features an innovative installation technology, as the planks and tiles can adhere to the subfloor without messy adhesives. LooseLay planks and tiles are flexible and resilient.
Korlok: Korlok is Karndean's newest collections. Where LooseLay planks and tiles are flexible, Korlok planks and tiles are strong and rigid. This construction is the result of Korlok's thick core. With this core, Korlok is considered 100% waterproof.
The Floor Store Carpet One Floor & Home in Denham Springs, LA is proud to provide Karndean flooring to Livingston Parish, East Baton Rouge, and surrounding areas.